Keef
was
Zim's
and
Dib's
classmate, and his only major role was in the "
Bestest Friend
" episode. He was planned to return in the third season but this was impossible, due to the series cancellation.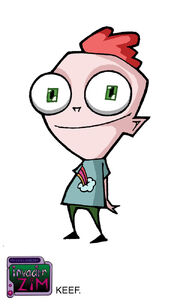 When Zim is searching for a new "best friend" Keef is the only one that qualifies and passes the tests. He later becomes a nuisance and somewhat of a creeper, causing Zim to give him a present that removes his eyeballs and replaces them with ones that shows the first thing Keef sees as Zim. That thing turns out to be a squirrel, and in the end Keef falls off a roof and explodes in an alley. He is seen in other episodes as a background character.