GIR

[[Image:

|175px]]

Race

SIR Unit

Gender

Technically Genderless, portrayed as male

Voice

Rosearik Rikki Simons

First appearance

"The Nightmare Begins" (2001)

Technology

Irken

Unit

SIR

Assigned Irken

Disguises

Green Dog Suit
Human Child Suit
GIR is a S.I.R. (Standard Information Retrieval), a mechanical unit from Irk and the deuteragonist of Invader Zim and the secondary antagonist of the Netflix movie Invader Zim: Enter the Florpus.
Normally, the S.I.R units are made to assist Irken Invaders in their missions. However, GIR was made by The Almighty Tallest with garbage pieces (and things found in the Tallest's pockets) because they didn't want to waste a completely functional S.I.R. on Zim and his fake mission.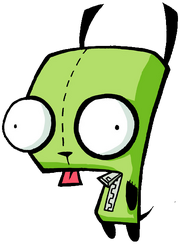 GIR named himself, but doesn't know what the "G" stands for in his own name. While on Earth, GIR often uses a green dog suit as a disguise. He has a really random personality and is quite unpredictable. He seems to like rubber piggies and watching T.V., especially the "Scary Monkey Show".
Normally his eyes are teal, but when he enters into duty mode, his eyes and lights turns into a bright red. While on duty mode, GIR. becomes very competent.
Bloody Gir
[
]
Along the series, a picture of GIR cover in blood can be found as a sort of easter egg, and can't be found except by careful, frame-by-frame examination.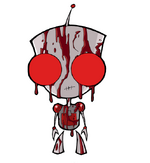 Gallery
[
]